Paintball Information
WHAT YOU
NEED TO KNOW
Above all, paintball is a game of cooperation and communication. Each team (red versus blue) competes on a field to achieve an objective. Work out your strategies as a team and make your way towards the enemy base by crossing our game modules (fortresses, bridges, buses, trucks, planes, turrets) to reach and achieve the ultimate objective of the scenario. Unleash your inner warrior and have some fun!
Online Booking
Prices and Deals
Opening hours: Monday to Thursday 6pm to midnight, Friday noon to midnight and Saturday, Sunday 9am to midnight.
How it works
PAINTBALL ACTIVITY
BEFORE ARRIVING
The surface of our field is in sand. We advise you to bring an old pair of espadrilles and a sporty outfit that you won't mind getting dirty.
01
On arrival
When booking online, please arrive at the branch at the date and time indicated on your booking confirmation. Once registration is complete, we'll distribute your equipment.
02
EXPLANATION OF SCENARIO AND RULES
A paintball game is played according to a predefined scenario. Once the referee has clarified the instructions and objectives of the scenario, you're ready to have fun.
03
Scenario example
Capture the flag - At the start of the game, a flag is placed in the center of the field, and the aim is for one of the two teams to take the flag back to its base. Each scenario lasts around 15 minutes.
04
THE FUN BEGINS
Fortress, plane, bank, prison... you'll rotate through our 4 different terrains as the different scenarios unfold.
05
END OF GAME
Complete as many scenarios as possible. Games end when you've used up all your paintballs.
06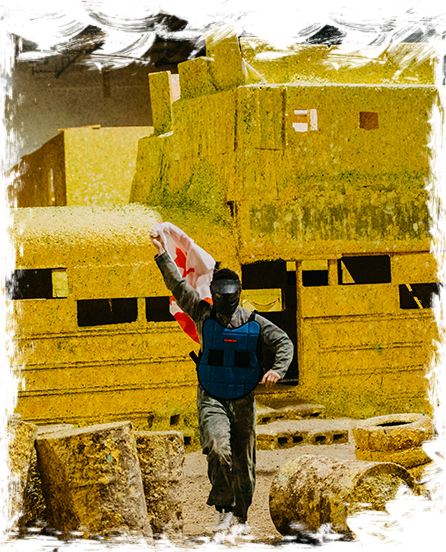 Group Event
8 People and more
Take advantage of group benefits such as a private track or your own private paintball field. Contact us today and book your memorable event.